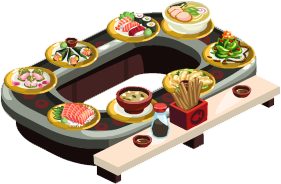 The Sushi Bar is a placeable item in the game. It features eight Japanese-themed dishes rotating around on a conveyor belt. The Sushi Bar can only be obtained by mastering Salmon Sashimi. Initially, only 1 dish (Salmon Sashimi) will appear on the Sushi Bar. To make dishes appear on all 8 plates, you must master the other 7 sushi dishes.
Effect: 2 people can stand in front of it at a time. (Don't place chairs where they should be standing.) It earns 400 coins every 4 hours and never breaks.
Ad blocker interference detected!
Wikia is a free-to-use site that makes money from advertising. We have a modified experience for viewers using ad blockers

Wikia is not accessible if you've made further modifications. Remove the custom ad blocker rule(s) and the page will load as expected.