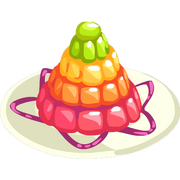 Rainbow Jelly Tower is a dessert dish. It was originally a regular dish but is now limited (disappears if it hasn't been leveled by February 1, 2011). It begins at level 0. To achieve level 10 in this dish, you need 20 raspberries, 10 oranges, 10 limes. In addition, you must master Candy Mountain before you can level up this dish.
Mastering Rainbow Jelly Tower unlocks the widescreen TV with surround sound speakers for your Karaoke Bar (+1 coin when Shirley Temple, Satay Sensation, Candy Mountain or Rainbow Jelly Tower are served until end of January 2010). Mastering Rainbow Jelly Tower is also required to unlock Resolut Cocoa and Singapore Fling.
Ingredients
Edit

See also: Recipes
See also: Ingredients
Ad blocker interference detected!
Wikia is a free-to-use site that makes money from advertising. We have a modified experience for viewers using ad blockers

Wikia is not accessible if you've made further modifications. Remove the custom ad blocker rule(s) and the page will load as expected.