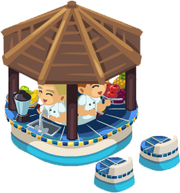 The
Miami Gazebo
is a special limited item (was available from January 18,2011) that can be obtained by collecting 4 clues, with the help of the cops, in Donuts
Challenge
(Sweet Deal), by leveling up the
Donuts
dish at least once. In addition it earn 200 coins every 6 hours, never breaks and serves 2 customers.
Additional InformationEdit
In game description: "Watch customers enjoy a little R&R in this amazing Miami inspired gazebo! Stylish, glamorous, exclusive... what more could you ask for?!"
Ad blocker interference detected!
Wikia is a free-to-use site that makes money from advertising. We have a modified experience for viewers using ad blockers

Wikia is not accessible if you've made further modifications. Remove the custom ad blocker rule(s) and the page will load as expected.