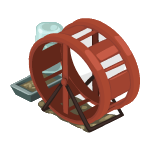 The Hamster Wheel Arcade is a special limited item (was available from April 13, 2011 until April 21, 2011) that can be obtained by collecting 30 Paw Tokens (either by gifting or purchasing them for 2 Cooking Cash each) as part of the Pets Challenge (Fluffy Companions).
It can also be purchased using Cooking Cash (until May 10, 2011).
Effect: Earns 900 coins every 4 hours.
Additional InformationEdit
In game description: "Sometimes it feels like you're just running round and round and going nowhere..." Well don't tell them now, but your customers are earning you lots of coins in this fun new arcade!
Ad blocker interference detected!
Wikia is a free-to-use site that makes money from advertising. We have a modified experience for viewers using ad blockers

Wikia is not accessible if you've made further modifications. Remove the custom ad blocker rule(s) and the page will load as expected.