The Gourmet King (called the Food King on some ad billboards) was a new feature added into Restaurant City in the December 1, 2009 update. The feature required users to search for the Gourmet King hidden in different scenes of the game. As of now, the Gourmet King has been spotted in 4 different locations:
Seated on a picnic blanket near the Garden Plots
Seated on a picnic blanket near the trees
Walking on the pavement outside the restaurant
Standing on the street while in Street View
Upon finding the Gourmet King, the user will be able to choose 1 of 3 rewards. A total of 10 distinct rewards have been made available but only 3 are available as choices for each Gourmet King spotting.
Gourmet King Rewards
Edit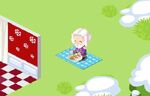 Thus far, rewards may be either ingredients, special limited edition items, or recipes for new dishes.
Note: the rewards listed below are liable to change from week to week.
Ingredients available have been:
Recipes available have been:
Starter
Main course
Dessert
Drink
Items available are:
Balloons
Flower Bouquet
Gold Heart
Red Heart
Rose Bucket
Rose in a vase
Cannonballs
Flags
Gifts available are:
Blue Present
White Present
Users who find the Gourmet King will then be asked to choose between a random ingredient, one item or one random recipe, as selected by the game. The user will then be prompted to publish a post on his wall, from which his friends may claim the prize chosen. Prizes may only be claimed by a user's friends and not by himself. Each Gourmet King post will expire after 48 hours. Originally, each person can only claim 5 rewards per day, now the restriction seems to be loosen to 20, including any other rewards claimed from friends' walls (i.e. pretty much everything except for Mystery Crates).
Ad blocker interference detected!
Wikia is a free-to-use site that makes money from advertising. We have a modified experience for viewers using ad blockers

Wikia is not accessible if you've made further modifications. Remove the custom ad blocker rule(s) and the page will load as expected.