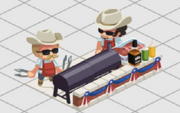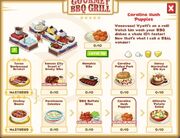 The Gourmet BBQ Grill is a free special item that was released July 5th, 2011. Like other items of the same type, there will be 10 recipes total associated with the Gourmet BBQ Grill.
Effect: Cooks up to 40% faster. Can be used by 2 chefs.
Recipes
Effect at mastery (level 10)
Unlocks the Serve-Yer-Self Salad Bar Arcade (earns 600 coins every 4 hours)
Unlocks Wyatt's Wonder Station (free BBQ Sauce ingredient every 24 hours)
Cooks Gourmet BBQ Grill dishes 20% faster
Earns 50% more coins with every dish
Unlocks a second grill (two cooks can cook),
Cooks Gourmet BBQ Grill dishes 30% faster
Upgrades the Serve-Yer-Self Salad Bar (two customers can play at once)
Unlocks Cassidy "Lucky" Nash (+1 GP on all Gourmet BBQ Grill dishes)
Unlocks Wyatt (washes Gourmet BBQ Grill dishes 10% faster)
Cooks Gourmet BBQ Grill dishes 40% faster
Gives a +1.5 popularity boost to your restaurant
Ad blocker interference detected!
Wikia is a free-to-use site that makes money from advertising. We have a modified experience for viewers using ad blockers

Wikia is not accessible if you've made further modifications. Remove the custom ad blocker rule(s) and the page will load as expected.