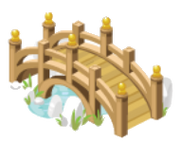 The
Exquisite Bridge Centerpiece
is a special collectible item (available until February 22, 2011) which is obtained by mastering these dishes:
Chicken Adobo
,
Nasi Lemak
,
Stinky Tofu
and
Tom Yung Kung
or by
Playfish Cash
(available from January 25, 2011 until February 9, 2011). In addition it will add +3 popularity to your restaurant. It is released as part of the Asian Theme.
Additional InformationEdit
In game description: "Customers will feel tranquil and serene as they enter your restaurant and gaze their hungry eyes over this hand-crafted decoration. So much so, word will spread and the customers will flow in!"
Ad blocker interference detected!
Wikia is a free-to-use site that makes money from advertising. We have a modified experience for viewers using ad blockers

Wikia is not accessible if you've made further modifications. Remove the custom ad blocker rule(s) and the page will load as expected.