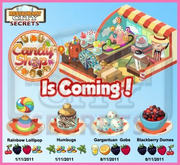 The Candy Shop is a functional item, which earns 900 coins every 10 hours. There are a total of 10 recipes to master, in order to complete the Candy Shop. Bellow are the recipes:
Recipes
Effect at mastery (level 10)
Maggie's
Turns Slack Sam into George the Jolly Candyman
Upgrades your candy display shelf. Give you +2.5 GP for each Candy Shop Dish served.
Unlocks Cotton Candy Machine (+1 Customers Patience)
Upgrades your candy dispay into a candy Train Display. Earn +1 Coin for every candy shop dish served
Gives 1 in 2 customers using the Cotton Candy Arcade a Sugar rush-Making them 30% faster. Plus, get an extra employee. (LIMITED OFFER. Ends at 1st December.)
Tommy's
Display Area fills up with Candy Jars
Unlocks the Gumball Machine. Watch customers use it and give you extra Gourmet Points
Go, Rocket Go! Click it to Animate. Get +3 GP For every candy shop dish served.
Upgrade your cashier table display. Earn +1 Coins for every candy shop dish served.
Unlocks George's Animation-Click him! Get +2Popularity. (LIMITED OFFER: Ends at 1st December.)
Ad blocker interference detected!
Wikia is a free-to-use site that makes money from advertising. We have a modified experience for viewers using ad blockers

Wikia is not accessible if you've made further modifications. Remove the custom ad blocker rule(s) and the page will load as expected.