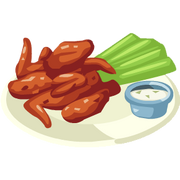 BBQ Buffalo Bites is a starter dish. It begins at level 0. To achieve level 10 in this dish, you need 10 salt, 10 chicken, 10 BBQ sauce and 10 chili paste. In addition, you must master Farmhouse Coleslaw before you can level up this dish.
BBQ Buffalo Bites is a Gourmet BBQ Grill recipe. Mastering it upgrades the Serve-Yer-Self Salad Bar Arcade and allows two customers to use it at once. Mastering it also unlocks Carolina Hush Puppies.
Ingredients
Edit

See also: Recipes
See also: Ingredients
Ad blocker interference detected!
Wikia is a free-to-use site that makes money from advertising. We have a modified experience for viewers using ad blockers

Wikia is not accessible if you've made further modifications. Remove the custom ad blocker rule(s) and the page will load as expected.